The hotel has its own meeting rooms on site. These rooms are easily accessible from the car park, reception and bedrooms.
The meeting rooms have natural daylight, their own temperature controls and are equipped with Air Quality Control equipment. Direct dial telephones are provided in all meeting rooms.
Flipcharts, overhead projectors and screens, TV and videos can be provided. Any other equipment can be ordered in by prior arrangement. Photocopying facilities, phone and modem points are available for use in our business area. Faxing can be arranged via Reception. All meeting rooms are supplied with a box of stationary, flipchart pens, scissors, hole punches, staples...
Meeting rooms can be hired on a Day Delegate, 24 Hour Delegate or room hire basis. Teas, coffees, lunch and dinner are all available on site. All dietary requirements are catered for.
Our Meeting rooms can accommodate up to 50 people and can be set up as a theatre, boardroom or u-shaped room. Smaller rooms are available for Syndicate meetings or the Great room may be used as an informal break out area.
* Meeting rooms each for up to 50 delegates
* Air conditioning in each meeting room
* Natural daylight in each meeting room with blackout facilities
* The Meet Smart meeting promise
* Guest Services Managers to organise, meet & greet delegates
* Dataport & e-mail access
* Telephone links
* Complimentary stationery kit
* Television and video recorder
* Overhead projector
* Screen and remote control
* Flipcharts
* 5 Meeting Rooms
* Largest Room Capacity: 20 Boardroom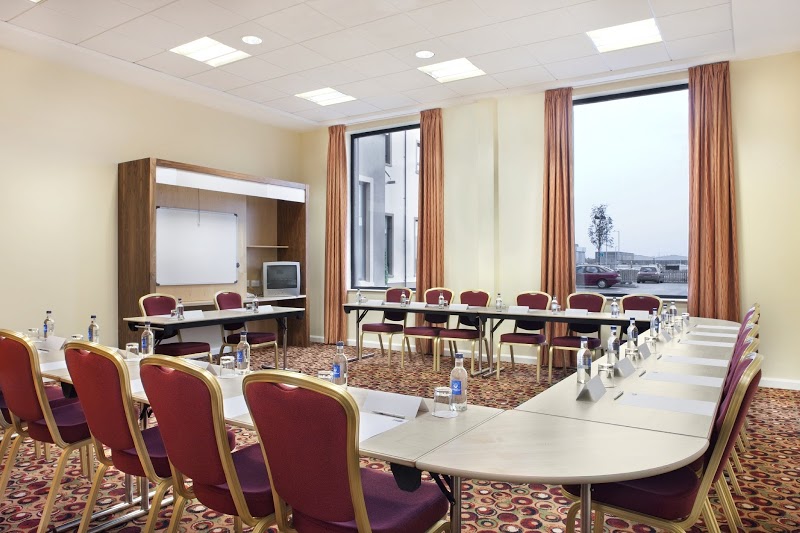 sales.antrim@holidayinnexpress.org.uk
Nearby:
Belfast International Airport is less than a 10 minute away
Website URL:
http://www.bdlhotels.co.uk/hotels22.htm